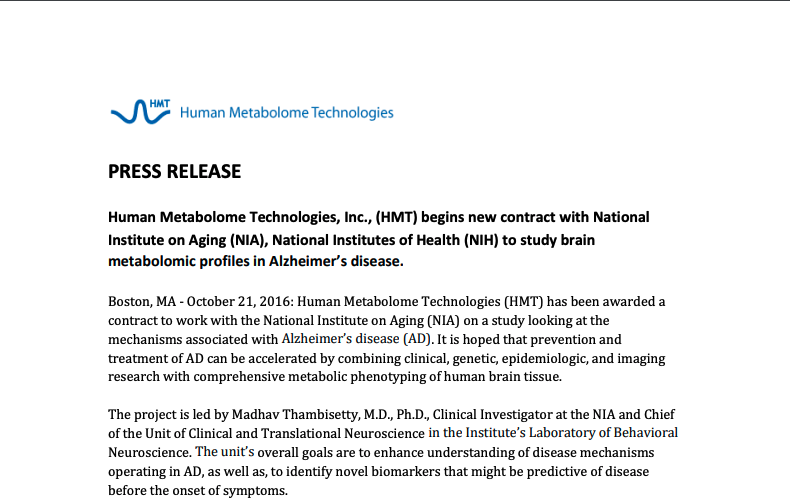 Boston, MA – October 21, 2016: Human Metabolome Technologies (HMT) has been awarded a contract to work with the National Institute on Aging (NIA) on a study looking at the mechanisms associated with Alzheimer's disease (AD). It is hoped that prevention and treatment of AD can be accelerated by combining clinical, genetic, epidemiologic, and imaging research with comprehensive metabolic phenotyping of human brain tissue.
The project is led by Madhav Thambisetty, M.D., Ph.D., Clinical Investigator at the NIA and Chief of the Unit of Clinical and Translational Neuroscience in the Institute's Laboratory of Behavioral Neuroscience. The unit's overall goals are to enhance understanding of disease mechanisms operating in AD, as well as, to identify novel biomarkers that might be predictive of disease
before the onset of symptoms.
In this current initiative, HMT will provide high-resolution metabolomic profiling of human brain tissue samples provided by the NIA, using unique capillary electrophoresis mass spectrometry platforms to measure absolute and relative levels of metabolites associated with many pathways critical in the pathogenesis of AD.