Alanine is a neutral amino acid and an essential building block for protein synthesis, along with Leucine. Alanine is one of the two most common protein amino acids. Alanine is also of the most common plasma biomarkers for diseases. Alanine is not a dietary essential amino acid, as it can be made within cells.
How is alanine so prevalent as a disease biomarker and in dysregulated in many cell studies? What could be its role as a biomarker and what pathways other than protein synthesis?
Alanine is a zwitterion, consequently it can act as an osmoprotectant under cellular stress and act as a protein stabilizer.
Alanine comes in two stereosiomers, D & L, that activate sweet taste receptors, however, L-Alanine with high levels of nucleotides contributes to Umami taste while D-Alanine contributes only sweet.
Alanine, released from skeletal muscle, is used as a substrate for gluconeogenesis in the liver. A liver enzyme, Alanine aminotransferase(ALT), catalyzes the reaction to form pyruvate from alanine in the liver, pyruvate converting to glucose back in muscle (which is known as the "glucose-alanine cycle". Hence Alanine plays a critical role in muscle metabolism
There is more to this story than just Alanine to glucose. ALT catalyzes the transfer of an amino group from alanine to alpha-ketoglutarate in the alanine cycle to form pyruvate but there is a second product, glutamate, a critical amino acid itself and part of the transport of ammonia from muscle to liver to kidney.
Lymphocytes depend on the import of extracellular alanine as vital for the transition from quiescence to activation of both naïve and memory T cells. Though the role is under study, the mechanism of which is not clear, but gluconeogenesis may be one factor to active cells as well as protein synthesis.
Alanine racemase is a bacterial enzyme that catalyzes the conversion of L-alanine to D-alanine and is dependent upon Vit B6. This function is critical for the growth of bacteria due to their need for D-alanine as an essential component in the biosynthesis of cell wall peptidoglycan in both gram-positive and gram-negative bacteria thus important for supporting our microbiome.
Another role for D-alanine is through D-amino acid oxidase (DAO) which catalyzes the oxidation of bacterial D-amino acids, such as D-alanine, and generates hydrogen peroxide, which is linked to antimicrobial activity. D-alanine is made exclusively within the microbiome, where as, DAO is conserved widely in eukaryotes, but not in bacteria hence DAO is considered a potential component of the innate defense in mammals.
The dipeptide, Ala-Ala, is commonly observed in human blood and believed to be from beef, has a sweet taste and has shown anti-hypertensive activity against ACE-I.
Alanine can be appropriately referred to as alpha-alanine as compared to beta-alanine, which has a different biochemical profile.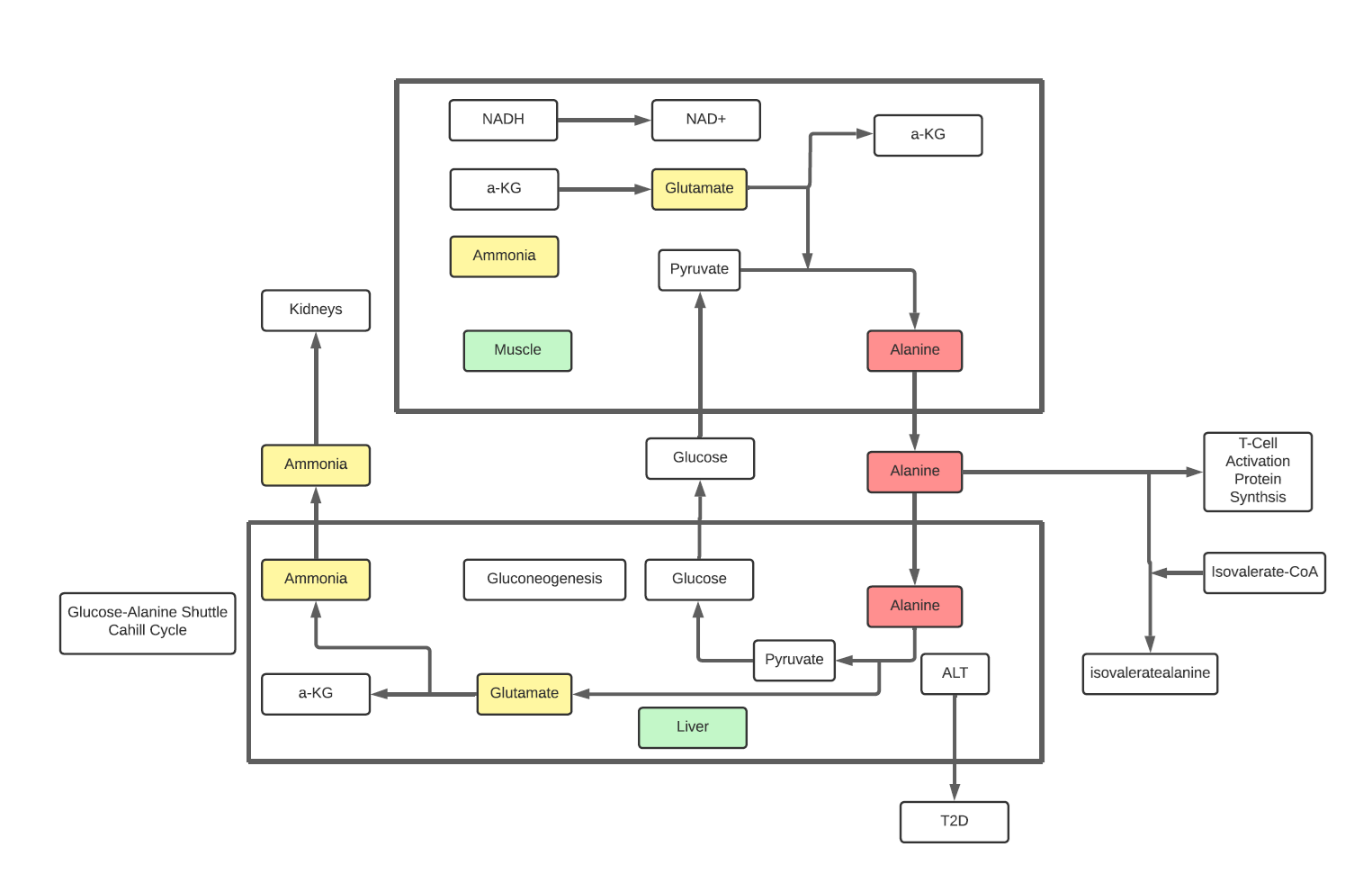 L-Arginine participates in major pathways such as the Urea Cycle and Nitric Oxide synthesis.
L-Arginine acts as a vasodilator, opening (dilating) blood vessels. Many people take oral L-arginine to treat heart conditions or for erectile dysfunction. This action presumably is through generation of nitric oxide (NO) from the conversion of Arginine to Citrulline.
L-Arginine is classified as a basic amino acid. It is classified as a semi-essential or conditionally essential amino acid, depending on the developmental stage and health status of the individual. Hence, while there are dietary requirements, Arginine can also be synthesized within cells. Adults can synthesize Arginine in the urea cycle as part of the disposal of waste ammonia.
L-Arginine has a bitter taste.
L-Arginine plays an important role in immunity and wound healing through NO generation and transcription activation.
L-Arginine is necessary for the synthesis of creatine and phosphocreatine (ATP recycling) and can be used for the synthesis of polyamines through transformation to Ornithine.
The conversion to asymmetric dimethylarginine (ADMA) inhibits the nitric oxide synthase (NOS) reaction, providing negative feedback control. ADMA is considered a marker for vascular disease as high levels can inhibit NOS.
L-Arginine stimulates the release of hormones; specifically, growth hormones and prolactin.
L-Arginine is a known inducer of mTOR and is responsible for inducing protein synthesis through the mTOR pathway.
disease states such as sepsis, injury, and cancer can cause an increase in L-Arginine utilization, which can exceed normal body production, leading to L-Arginine depletion.
L-Arginine activates AMPK which then stimulates skeletal muscle fatty acid oxidation and muscle glucose uptake, thereby increasing insulin secretion by pancreatic beta-cells.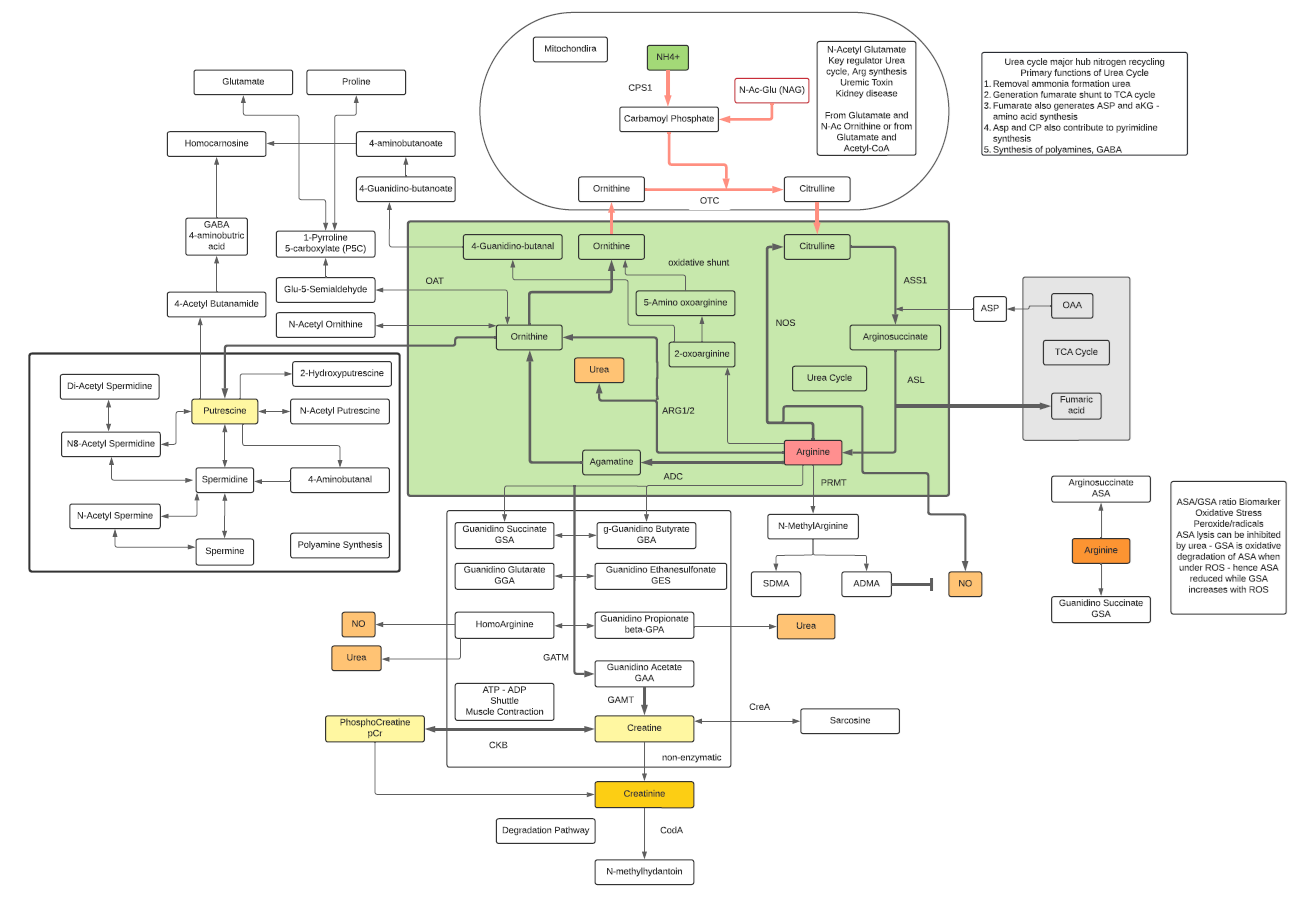 Metabolites come in many shapes and forms: polar and non-polar, basic, neutral and acidic. One of the challenges in the analysis of metabolomics data is understanding the roles of a given metabolite, considering the context of the particular experiment. The type of sample (tissue, blood, CSF, T cells, cancer cells etc.) has a lot to do with the role a metabolite may play. For most metabolites, there may be more than one pathway in which that metabolite is a product or reactant, and whose concentration may be dependent upon the context of the experiment, epigenetic and environmental factors, and other variables.
While a metabolite's reactivity (its role as a reactant or product) in a specific biochemical reaction within a specific pathway may be of importance in one case, the physical properties and/or accumulation of that metabolite may be its importance in another (e.g. accumulation leading to acidosis, its role as an osmoprotectant or a hydrator or an emollient).
The HMT library is not about explaining metabolite structure. Instead, the HMT metabolite data base is focused on the most common pathways and biology around each metabolite. The focus is on mammalian biology, however, in many cases plant and bacterial pathways can also be relevant. We like to think that there is still much to learn about how metabolite levels are influenced and look to learn more.
We will start with amino acids and some amino acid derivatives then move to selected organic acids. Each week a new metabolite will appear. We hope you enjoy this addition to our website. If so, you can subscribe to our newsletter or contact us for more information on how we can help you get the most of out of metabolomics – no matter your field or interests.